Our Company is a family owned, independent Company based in Gainsborough, Lincolnshire.
Our business is over 150 years old and for its 150th Anniversary we held a special event. You can find out more about it here and the antique Edlington machinery we had on display.
The firm was founded in 1865 by two brothers, John Butler and Thomas Edlington. Thomas whom made his money in the Australian Gold Rush.
We have over the years manufactured ploughs – drills – rolls – reapers – and vegetable grading equipment.
Today the Company is run by the great-great nephew of John Butler Edlington, Paul John Edlington and Susan Edlington, widow of Brian Edlington.
John Butler Edlington who founded the company with this brother, Thomas.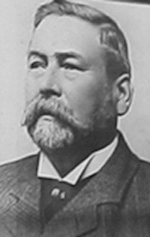 The firm of J B Edlington & Co Ltd was founded in 1865 by two brothers John Butler and Thomas Edlington.
John Butler worked at Marshalls when only eleven people were employed there, so it must have been quite early in their history.
Thomas went to Australia when the Gold Rush was at its height, and together they pooled their resources and decided to go it alone.
They rented premises behind what was Lea Road School, and started manufacturing a wide range of equipment. Reapers and Mowers were quite prominent in their list.
In 1873 they purchased our former site which was on Lea Road/Carr Lane – at the time it had a tower bricked windmill on it, which was converted by our two founders to steam power. In an advert in 1875 in the Gainsborough News, the company states: "Manufacturers of Patent and Improved Reaping and Mowing Machines – Hay Making Machines – Horse Rakes and Improved Horse Gear – Chaff Cutters and Grinding Mills. We did work for the local Waterworks in this year too." Our first workshops were erected alongside Lea Road at the end of 1875.
By January 1876 our range of machinery included Turnip Cutters and Root Pulpers, Cambridge Rolls – Harrows – Steerage Horse Hoes and Corn and small Seed Drills.
In 1886 we built a large Workshop and the offices. The Tower Mill was still standing at this time.
1894 saw the partnership of the two brothers dissolved. They had traded under the name J B & T Edlington. Thomas, by now in his sixties, went to farm at Messingham. John Butler continued on his own.
J B Carries On Alone
In order to expand J B bought from Sir Hickman Bacon a piece of land which housed what was the Show Room and our Loading Ramp. J B also extended his operations purchasing his first retail outlet in our own name in Brigg
1896 saw our Paint Shop built, followed by the Show Room in 1911.
In 1902 we have our first indication of Sales of the firm: – 183 Mowers, 121 Horse Rakes, 65 Self Delivery Reapers, 4 S Binders, 417 Ploughs, 262 Turnip Cutters, 42 Pulpers and Graters, 25 Chaff Cutters, 52 Cake Mills, 3 Grinding Mills, 77 Spring Tine Cultivators, 34 Harrows, 52 Corn and Turnip Drills, 36 Cambridge Rolls, 14 Weighers, 15 Hay Collectors, 31 Horse Hoes, 10 Horse and Pony Glares.
Orders on hand were: 69 Grass Mowers, 3 Reapers, 12 Self Binders, 1 Haymaker, 37 Horse Rakes.
1905 saw the Firm floated as a Company. J B Edlington & Co Ltd with J B as Governing Director.
The next major development machinery wise was the "Phoenix" Cylindrical Potato Sorter in 1911. It is worthy to note that J B was 72 years of age when this machine was put forward for trials. It was to retail at £7-15-0.
The report read: "Messrs Edlington's machine finished with the help of five men and no manager in 45 minutes although the breakage of a linking chain delayed them a short time. Curiously enough an assistant was at once seen to be leaving the pink ones amongst the seed, but on colour blindness being found to be the cause an exchange of attendants soon put matters right. Their rotary screen was supposed to take out the seed and chats at the pace attempted a good many slipped past into the ware. An especially good point in this machine was the room and facilities given for sorting disease from the seed as they fell through the riddle."
Kexby House Is Built
1912 saw plans passed for J B to build his new home Kexby House at Kexby.
During the First World War, I quote from our 1915 Annual Report: "Your Works here have naturally suffered from a depletion of skilled hands absorbed into the Army and this at one time during the year looked like being very serious, but your Directors obtained some Munition work which enabled them to keep some of the best hands and the result of this work will appear in next year's Balance Sheet." I have yet to find out what exactly this work was, but rumour indicated it was connected with the tracks on tanks.
By 1917: "The Government have recognised the great importance of Agricultural Implement Makers in their Food Production Programme and extended protection to the workmen engaged in this and other Key Industries. Owing to the number of orders booked your Directors propose to extend the Foundry if the necessary Building Permit can be obtained from the Ministry of Munitions."
1919 saw the "Phoenix" Potato Sorter became Power Driven – price £70.00. On the 19th January 1921, J B, our founder, died. His nephew, Thomas Edmund Edlington, took over the running of the company. In the same year, the Turnip Cutter Gardner Pattern Power Driven, with 45 knives, was launched at the Royal Show at Derby. Priced at £85.
1923 saw the Potato Sorter "Gainsboro" launched with flat riddles and elevator complete. Price £15.
1926, the "Gainsboro" High Speed Mower with improved Cutter Bar won the Silver Medal at the Royal Show at Reading – the mower according to the Directors: "is proving a success in the open market." This was the year when John William Edlington, and his elder brother Thomas, became Directors of the Company.
One of our most "ingenious" inventions was an Incinerator. It was supplied to Urban District Councils and Richmond and Regent's Park -Lord's Cricket Ground -Wimbledon Tennis Club and bought by the Crown Agents for the Colonies for use in various Government Departments abroad.
The Edlington Company Beats The Depression
Thomas Edmund Edlington inherited the Company at a difficult economic time but his enthusiasm for innovation knew no bounds and in 1930 he patented a cleaner and loader for sugar beet. It underwent exhaustive trials at the Sprowston Experimental Farm near Norwich and in 1931 was sent to the Royal Show at Warwick price £45, engine extra.
1933 saw a Vertical Link Action Two Speed Potato Digger added to the range of machinery which won a Gold Medal at the Holland County Show. Price £22-15s.
1934 saw the Lincolnshire Show came to Gainsborough and the Company occupied Stand No 26. Sadly on the 6th October, Thomas Edmund died.
His three sons worked for the company: Thomas was appointed Managing Director and John William and Alfred Richard Edlington – Directors.
1938 saw the No 7 Potato Sorter price £16 added to the range also the acquisition of the patterns jigs and templates of John J Cooke & Sons Ltd of Lincoln. We then marketed the "Cooke" Ridger, Coverer, Cultivator and Steerage Hoe.
1939 saw the outbreak of World War 2 and also help for farmers from the Government – a minimum price for potatoes – a grant of £2 an acre for ploughing up grassland and an increased price for wheat. A quote from the Company's Annual Report states: "Unfortunately your Labour Supply has been reduced by the calls of the Army and the War generally – it has been substituted by the employment of Women."
1947 saw the death of W H Wilkinson who had been Director and Secretary of our Company since 1905 and the Royal Show came to Lincoln which was the first one after the War. The 6a and 7a hand and power driven Potato Sorters were in evidence.
1951 the Royal Show at Cambridge saw a "Root Washer Vegetable "Phoenix."
1954 the same Show at Windsor the Carrot Grading Machine "Phoenix."
1956 the same Show at Newcastle the Carrot Washer and Grader "Phoenix" with electric motor.
1959. A new Potato sorter the No 10 WF with flat riddles fitted with feeding elevator and bagging elevator for both ware and seed potatoes was introduced.
1961. Bulb Cleaners were a feature of the Royal Show at Cambridge.
In July 1965 John William Edlington died and in 1966 Thomas Edlington resigned as Managing Director. Alfred Edlington had responsibility for the running of the Workshop with his son George.
Brian Edlington who had managed the Brigg Depot for a number of years came back to run the Company.
Brian Edlington Introduces New Potato Sorter
In 1966 the Company was suffering from a lack of new machinery being designed so one of the first priorities was to introduce a new Potato Sorter, this Brian did and the MK 12 was sent to the Lincolnshire Show on Lyons Stand. A smaller version of this machine was then produced called the MK 3.
1969 saw the MK 14 which could handle 50 tons of Potatoes pictured in the Gainsborough News with the headline "Home Made to Beat Imports." Mr Freddie Coleman's comment was "The basic thing about it is it's simplicity." Also in this year Brian designed the first elevator/hopper which was sold to Mr Ralph Smith in the Isle of Axholme.
1971 saw a Potato Bulk Feeder to "Beat Continental Competitors" sold to a farmer at Bourne "where it is performing in exemplary fashion."
January 1972 saw a fire which destroyed two store rooms and part of our main workshop after thieves broke into our premises. Sadly we lost many of our old records and literature.
This same year a MK 15 Modular Chain Screen Grader was made with the MK 16 Grader following on from it.
1975. A Massive Mobile Red Beet Handling Line which can be over 70′ wide when in working position featured on an Anglian television. programme. It was sold to local farmers Gagg's of Misterton.
1976 we supplied to the largest Red Beet Grower in Europe – who else but Mr Stan White of Misterton, a static line some of which may still be working today
In the early 1980's Brian decided to design a Hydraulically Operated Tractor Roll – we had been producing Tractor Roll's for almost 100 years. The model called an HFR and its development the HFRAW – HD and FB we are still producing today. In 1984 we made a THR40 Roll with trailing arm independent coil spring suspension Units.
At the beginning of December 1997, Brian Edlington died suddenly, leaving behind a design and business legacy which will stand the Edlington business in good stead for the future.
In Jan 2008, Edlingtons was on the move. The local Highways Agency forced the company to relocate from the land it had been on since 1875. The company has stayed in Gainsborough and is now based on Ropery Road in a former Bus Depot.
As we reflect on over 150 years in business you will still today as in 1865 find an Edlington to speak to you. In 1865 it would have been John Butler or Thomas – today in 2015 it will be either Paul or Susan Edlington.
Susan Edlington, Brian's wife is researching the history of the Company and hopes to produce a book on the Company. This piece has been put together by her with assistance from her daughter Sara, a writer.
One last word to old and new customers:
THANK YOU FOR BUYING OUR MACHINERY