4.1m Double Press with 28″ shouldered rings.
The frame is enormously strong and built with 10mm steel hollow sections.
This Cambridge roll uses 28″ shouldered rings to ensure that medium size clods are chopped and reduced to a manageable size. Each of the 28″ shouldered rings weigh 66kg and are set at 7.5″ pitch – they are interleaved giving a nett spacing of 3.75″.
Blockages are reduced because the shafts are 63.5mm square and turn together. And a safety bar is fitted to secure the wings mechanically when the press is in transport position, taking the load off the hydraulics.
The Edlington Double Press has the ability to have the angle of 'attack' altered hydraulically and set at any desired position.
Another advantage with the Double Press is that a time delay can be allowed after ploughing, because of this time lapse you can have exactly the correct amount of moisture present. This way of working gives an exceptionally good result.
The Edlington Double Press comes in sizes from 3.6m to 6.6m and all are hydraulically folding.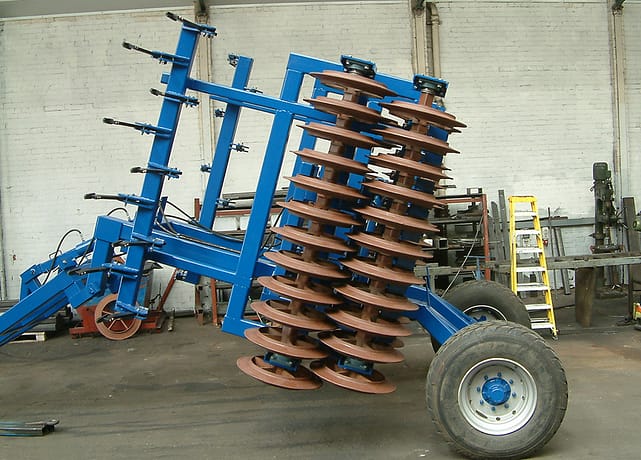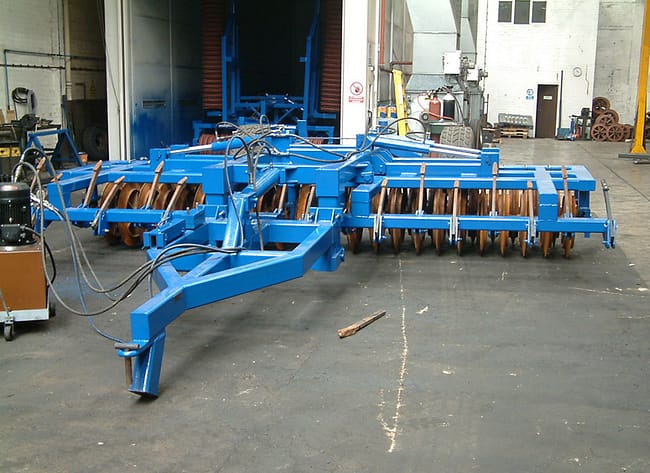 Video footage of the Edlington Double Press.