Three employees of J B Edlington left the company to serve in WWI.
Our three employees who were killed in WWI were:
Private Joseph Bernard Barnes
Private Frank Marshall
Lance Corporal Arthur Weatherall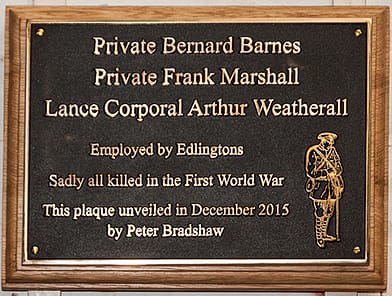 Private Joseph Bernard Barnes
He had been a keen footballer before the war and worked as a labourer. He was only 19 when he was killed in action on 13th October 1915.
He lived in one of the Yards off Bridge Street, Popplewell's Row.
At the start of the war, he joined up in the local Territorials,  the 5th Lincolns. He was one of the 60 local soldiers who were killed within the space of about 30 minutes attacking a German strongpoint called the Hohenzollern Redoubt in northern France. The bodies lay on the battlefield for months, it was too dangerous to bring the bodies in to be buried.
In November 1915 a letter from Private Barnes's mother was published in the Gainsborough News. This is what his mother wrote:—
"I scarcely know how to begin my letter for all our hearts are so sore.
We have just lost our dear Bernard. It is almost more than we can bear.
We received a letter and his sweetheart's photo yesterday from a sergeant of the Northampton Pioneers who found his body on the battlefield as he and his men were proceeding to dig another trench nearer the German lines. He had his gas helmet on and also a satchel of bombs, he was a bomb-thrower. His comrades were blown to pieces and poor Bernard had a shrapnel wound in his head. How long he had lain there we do not know."
Private Barnes was buried together with another Gainsborough soldier they had found, this was Sergeant John Anderton, who had worked at Boots the Chemist in the Market Place.
But another blow for the families was that the location of their graves was lost later in the war and they did even not have the slight comfort of knowing where their son was.
Their names are remembered on the Loos Memorial to the Missing.
In Gainsborough, Private Barnes's name was on the War Memorial in the Bridge Road Wesleyan Chapel but this was demolished many years ago and no one knows what happened to the memorial. So this plaque will be the only place in England where his name appears. Private Barnes had a brother called Leon who was also in the army – he survived the war.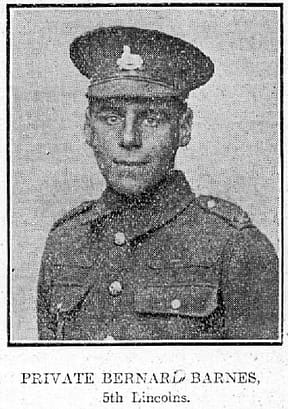 Private Frank Marshall
Private Frank Marshall lived on Trent Street.  He was in the Yorkshire Regiment and had enlisted in February 1917. He went abroad eight months later in November.
He was sent to Italy and it was here that he was killed in action by a shell on 15th June 1918 – aged 20. He is the only one of the three soldiers on the plaque to have a known grave. He is buried in Barenthal Cemetery in Italy which is in the north-east of the country.
In Gainsborough, like  Lance Corporal Weatherall, he is also remembered on the War Memorial inside St John's Church. He had two brothers.
Walter worked at Marshalls and like Private Barnes he fought at the Hohenzollern Redoubt. He was reported missing after the battle.
For over a month his parents didn't know what had happened to him and they feared that he had been killed but in November 1915 they got good news in a postcard saying he had been taken as a prisoner of war. Another brother Jack became a POW in 1917. He had also worked at Marshalls.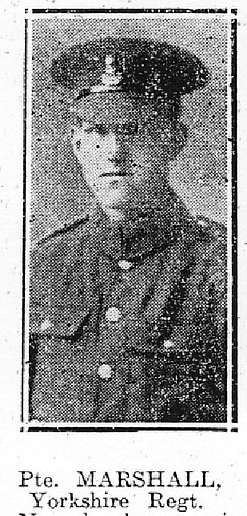 Lance Corporal Arthur Weatherall
He had also been in the Territorials before the war and lived at 9 Stanley Street.He re-enlisted in May 1915.
On July 1st 1916 he was killed in action on the first day of the battle of the Somme which was the worst day for casualties in the whole history of the British army. There were 60,000 casualties of which 20,000 were killed.Lance Corporal Weatherall was 32 years old.
He does not have a known grave and is named on the Thiepval Memorial to the Missing.
In Gainsborough he is remembered on the War Memorial which still exists in the old St. John's Church on Ashcroft Road.
His brother Sam was in the army and he had also worked at Edlingtons. He survived the war.